Dental Implants – Amherst, MA
The Last Tooth Replacement You'll Ever Need
When it comes to tooth replacement, dental implants simply offer the best of everything. They look like natural teeth. They function like natural teeth. And, just by brushing and flossing, they can easily last a lifetime as well. At Amherst Dental Group, we can use this state-of-the-art treatment to bring back single teeth, multiple teeth, and even an entire smile. So, if you're ready to finally close your gaps for good, give us a call today to learn more and get started.
Why Choose Amherst Dental Group for Dental Implants?
Custom-Made
Restorations for
Each Patient
Trusted by
Amherst Families
for 40+ Years
Friendly, Highly-
Skilled Dentists
& Staff
What Are Dental Implants?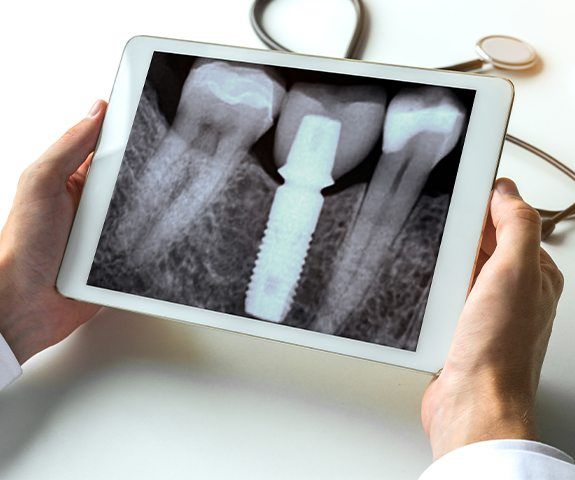 A dental implant is essentially an artificial tooth root that is placed directly into the jawbone. Made of titanium, the implant actually bonds directly with the surrounding bone to create an extremely firm foundation that is used to support the replacement teeth up top. Right now, they are the only dental treatment that restores an entire tooth, helping them offer a number of benefits you just can't get with traditional bridges and dentures.
Benefits of Dental Implants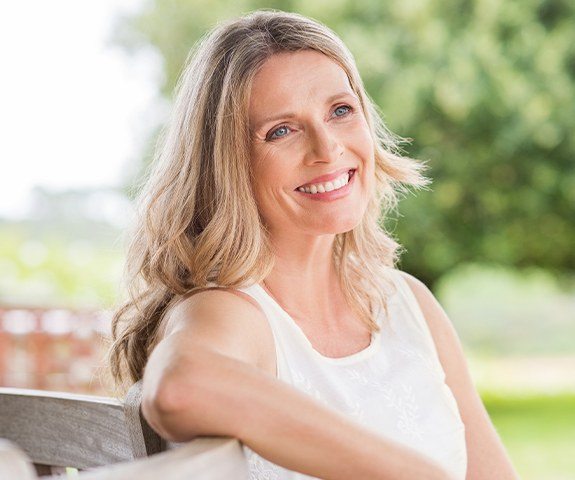 Because dental implants are self-supporting and don't have any metal or acrylic attachments needed to hold them in place, they blend beautifully into any smile and never stick out. Plus, the new roots actually support the jawbone from the inside, preventing the bone loss that usually occurs after tooth loss. Dental implants are extremely long lasting as well. With just regular brushing, flossing, and dental checkups, they have been shown to last for 30+ years for the majority of patients.
Are Dental Implants Right For You?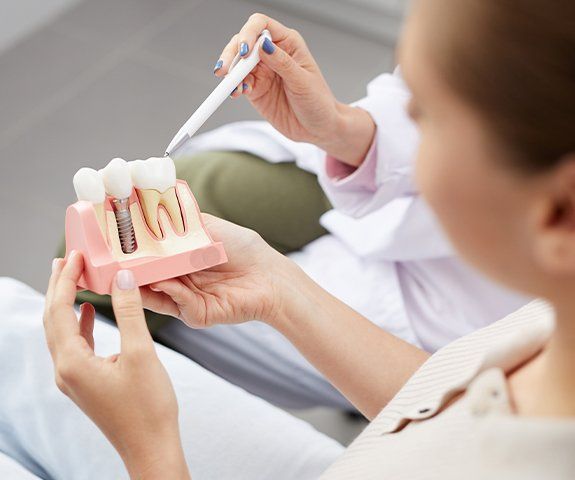 There are different types of implant treatments available based on how many teeth a patient is missing, and our team will help you find the right one for your situation. Once we have confirmed that your gums and jawbone are healthy enough for the procedure, you'll be able to choose from among the following options:
Missing Single Tooth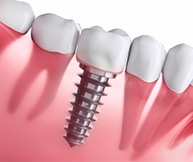 A dental implant root is positioned between two healthy teeth and topped with a custom crown. This crown will be made of porcelain and color-matched to the surrounding teeth. Unlike a regular bridge, it won't place pressure on the nearby gums or teeth, leading to a more comfortable fit.
Missing Multiple Teeth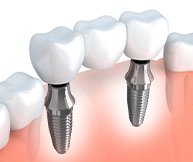 Prosthetics like a bridge or partial denture can be attached directly to the jawbone using as little as two implants, replacing several teeth at once. These implant retained teeth will be much more stable compared to removable ones, and they'll last longer as well.
Missing All Teeth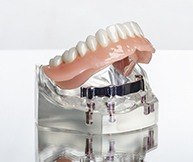 We can restore an entire row of teeth using just four to six implants that help anchor a full denture to the jaw. Compared to regular dentures, implant dentures can be trusted to never slip out of place while eating and speaking, and a patient just has to brush them like regular teeth to keep them looking and feeling like new.
Partnered With Amherst's Best Specialists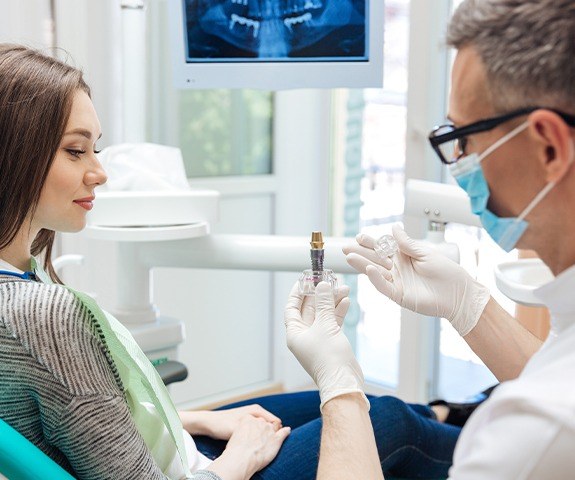 The dental implant procedure consists of two basic phases: placement and restoration. For the surgical placement, we'll refer you to one of our partnered specialists so you'll enjoy the highest-quality care possible. Each oral surgeon and periodontist we work with has successfully performed the implant procedure countless times. After your mouth has healed, you'll return to Amherst Dental Group to have your new teeth attached to your implants. This approach guarantees the smoothest patient experience possible while also delivering the best results.
Understanding the Cost of Dental Implants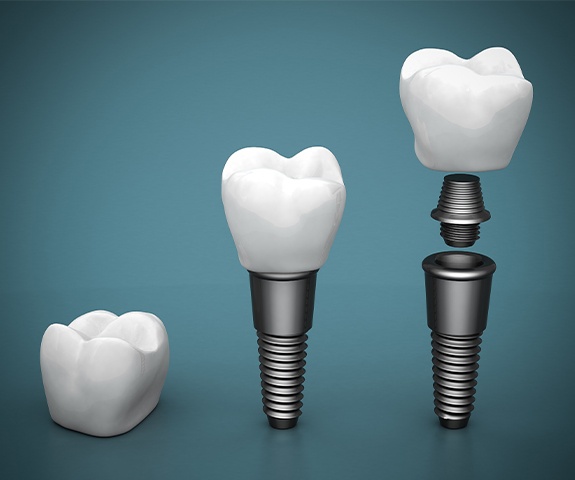 The cost of dental implant treatment is always a bit different from patient to patient depending on their unique situation. Factors such as how many teeth are missing, where they are located, and what type of restoration is used can all influence the final price. Despite implants tending to cost more than other treatment options up front, they are largely considered the best financial choice thanks to their longevity. They don't have to be replaced nearly as often as traditional bridges and dentures, and this can literally save someone thousands as the years go by.